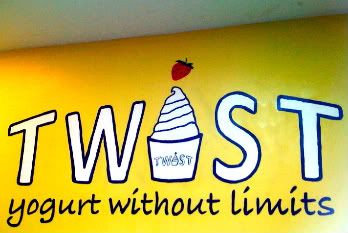 Princeton plays host to a disproportionate number of ice cream shops. We have Thomas Sweet, home of the blend-in, The Bent Spoon, the liberal hippie brightly colored artisan gelato of choice, Ricky's, which is gross and as friends have pointed out, does not actually count, and finally, Halo Pub, old standby of price ranges college students can actually afford.
Now enter, Twist: Nassau Street's newest addition to the town's ice cream parlor fetish. Just when you thought that ice cream parlor redundancy had reached its limit, along comes a shop that offers half-liter cups, a selection of 8 different frozen yoghurts, and at least 37 toppings ranging from traditional M&Ms and nutella, to Pinkberry-esque fruits like kiwi and strawberries. They also offer actual cookie dough. Twist is Do-it-Yourself fro-yo and toppings, weighed after you've finished your concoction: the only limit is your spare change.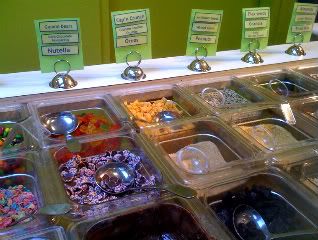 Ice cream shops seem to do well in Princeton, but with at least 3 legitimate competitors, it's hard to say how long Twist will be around. It certainly doesn't have the hometown charm of either T-Sweets or The Bent Spoon. Its decor consists mainly of electric yellow and purple walls, (vaguely reminiscent of The House of Cupcakes' horrendous lime green and zebra decor- but I digress). Nor does it have the less than $3.00 price-tag so often associated with locally made Halo. Past establishments in the space Twist now inhabits include Burger King and Saladworks, both of which failed to make the awkwardly rectangular shop work well for them. But, Twist has managed to market one thing well. In addition to being to being an all you can eat ice cream buffet, Twist has a vast array of seating, free Wi-Fi, a Frist-like CNN TV, and the one object that eludes so many of us on this campus: a stapler.
I visited Twist for the first time this week, though it's been open for about a month. Somewhat overwhelmed by my choices, I went with vanilla with approximately 3 pounds of M&M's on top. Other students opted for fruit toppings, or the popular Euro-tart (only 70 calories per bowl, as advertised, I kid you not). There are so many toppings, it would require at least several trips to discover the best combination.
Virginia Byron '10 has been to Twist a few times during reading period and finals. "It's nice that there's so much space," she says, "In terms of studying, I didn't get much done because I kept running into friends." Upon my visit, several groups of girls were gathered in front of the TV or various tables, but it has been known to get more crowded.
To check it out for yourself, you can visit their
web site
or their store. Twist is located between Bank of America and J. Crew. It's open between 12 noon and 10 pm on most nights, 11 pm on Fridays and Saturdays. And like its competitors, it too is cash only.